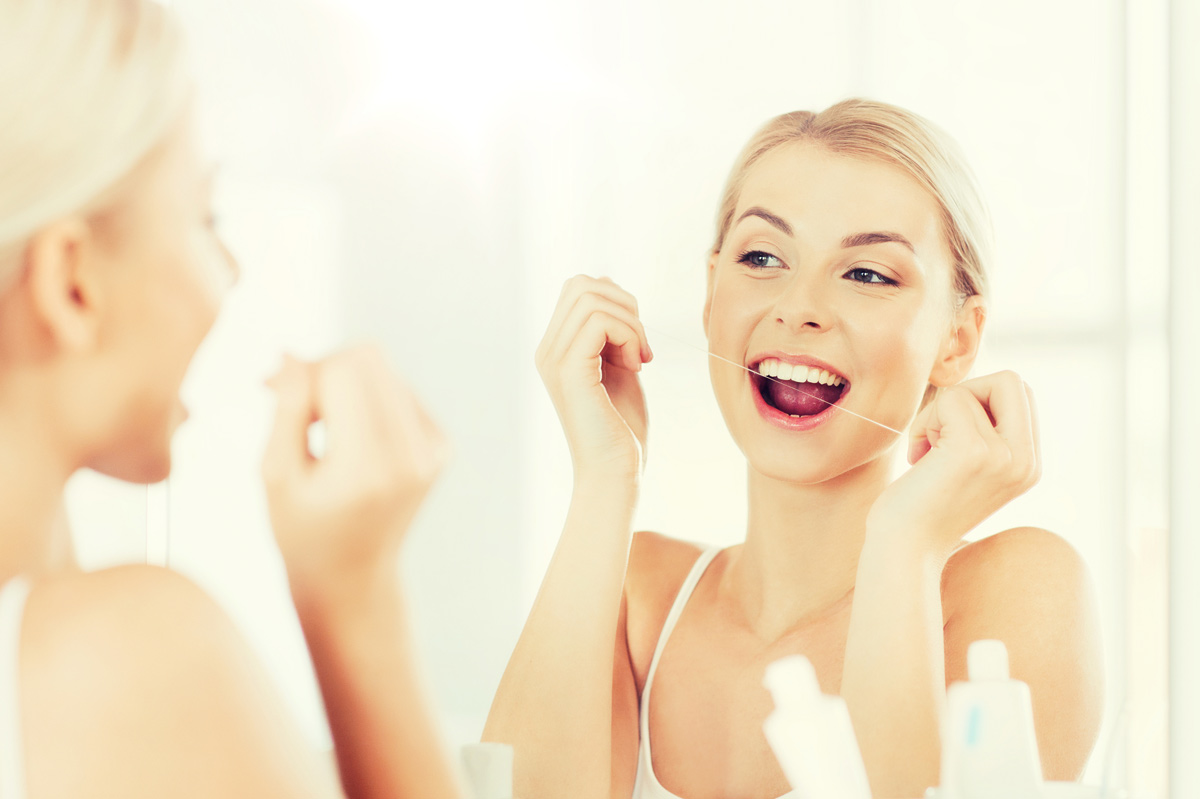 Posted on

November 12, 2018
Be honest: how often do you floss?
Now ask yourself – what's stopping you from flossing more often?
Many dental patients blame forgetfulness on their lack of flossing. Others admit that flossing issues are what's preventing them from flossing more regularly.
If you, too, are having trouble flossing, we are here to make this task easier for you! Check out the solutions we have below to common flossing problems.
Issue #1: Gum Sensitivity Makes Flossing Difficult
Thankfully, floss comes in so many different makes and styles now. If you have sensitive teeth or gums that bleed easily, a soft floss will make flossing much more bearable for you!
Soft floss was created to slide easily and comfortably between teeth, which will reduce any gum inflammation.
Issue #2: Flossing with Braces or Dentures
Having braces or dentures is not an excuse to avoid flossing! Specialized floss features a stiff end that can be threaded between wires as well as a spongy element that slides easily between the teeth.
Issue #3: You Have Difficulty Using Floss
Flossing can be a difficult skill to master! If the act of flossing is too problematic for you, then consider purchasing an electric flosser. With an electric flosser, no longer will you have to wind floss around your fingers and reach into the back of your mouth. This keeps flossing neat and comfortable, leaving you with no excuses anymore!
Another option is to purchase an oral irrigator. This device uses high pressured water to loosen and flush out plaque from between teeth.
Issue #4: Too Busy to Floss
Life's busy – especially when you have children. However, that doesn't mean your flossing habits needs to suffer!
Use flossing as a teaching moment and encourage your child to floss their teeth at the same time that you do. Although children as young as five can learn to floss, many will need assistance from you for the first while.
Seeing you practice this healthy habit can install the same habit in your children – and encourage a lifetime of healthy smiles!
The Benefits of Flossing Your Teeth
Sure, you know that flossing regularly is essential for maintaining excellent oral health. But do you know why exactly?
Below are some of the most important reasons why you should start flossing more regularly:
Flossing removes the film of bacteria and helps prevent the buildup of plaque
Flossing can make your teeth look brighter by removing food particles and plaque
Flossing prevents tooth decay and reduces your risk of developing gum disease
As a part of good oral hygiene, flossing contributes to better overall health
Your Dentist is Your Expert when it Comes to Flossing
Flossing regularly is only one part of achieving excellent oral hygiene!
For more tips about keeping your teeth and mouth healthy, schedule an appointment with our St. Catharines dentists or contact Creekview Dental today.
"Dr. Jason McNamee and his team have met and exceeded all of this criteria, I am very happy with them. My family and I will continue to support them for many years to come" - Cliff Etkins

Read More
"Absolutely everyone in your office was superb: kind, professional, respectful, supportive, and did everything they could to help me....All of it is a testament to your professionalism, your office culture and business practice, and your sincere kindness. I simply can't thank you enough." - Ellen Foster

Read More