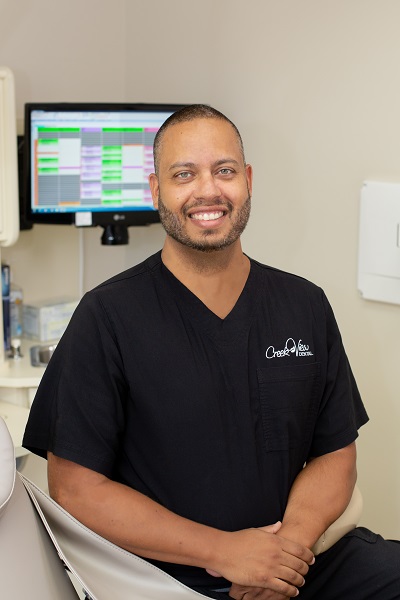 Dr. Jason McNamee was raised in Mississauga, Ontario. Both art and science have always been of interest to him. Art classes and cartooning were passions through secondary school but pursued the science curiosity in his post-secondary studies. Dr. McNamee obtained a Bachelor of Science degree with a specialty in genetics from the University of Western Ontario and subsequently a Master of Science degree in genetics from the University of British Columbia.
Dr. McNamee also took an interest in the dental field during his post-secondary education as this aspect of science and healthcare gave him the opportunity to combine his two interests, science and art. Dr. McNamee obtained his Doctor of Dental Surgery degree in 2006 from the University of Detroit Mercy and enjoys practicing all aspects of dentistry.
When he is not in the office, he loves spending time with his wife and three children and he volunteers his time as a "Hockey Trainer" for his son's minor hockey Team.
"Dr. Jason McNamee and his team have met and exceeded all of this criteria, I am very happy with them. My family and I will continue to support them for many years to come" - Cliff Etkins

Read More
"Absolutely everyone in your office was superb: kind, professional, respectful, supportive, and did everything they could to help me....All of it is a testament to your professionalism, your office culture and business practice, and your sincere kindness. I simply can't thank you enough." - Ellen Foster

Read More