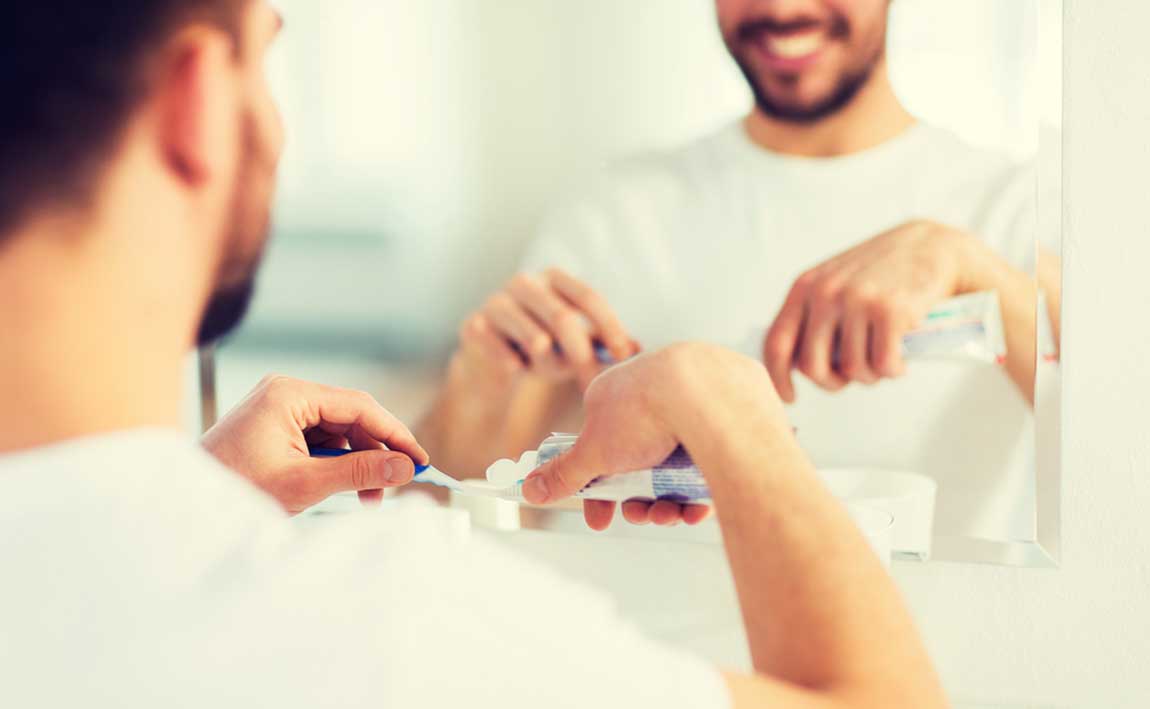 Posted on

March 19, 2019
The majority of us do not enjoy going to the dentist. (We try not to take this personally!)
So, what is the best way to avoid seeing a dentist more often than your regular checkup? Keep your teeth and gums healthy at home.
Although taking care of your oral health may seem like a lot of effort, it doesn't have to be! Follow our five easy tips below to enjoy healthy teeth and gums at any age.
#1) Brush Your Teeth Twice Each Day
Regularly brush your teeth with a fluoride toothpaste (preferably after every meal). Otherwise, food and plaque can get trapped in between your teeth and gums, causing gum disease and other issues. Remember to brush your tongue to remove any additional bacteria, too.
Do you have the right 'tool' for the job? Your toothbrush should have soft bristles and fit in your mouth comfortably. Purchase a new toothbrush every three to six months (or sooner if there are frayed bristles).
To fight gingivitis and plaque even better, invest in an electric toothbrush.
#2) Floss Once a Day
Your toothbrush can only do so much before additional help is needed! Any plaque or food beyond your toothbrush's reach can be removed by floss.
Flossing also helps prevent tooth decay, bad breath and tartar buildup. Regardless of when you decide to floss, take the time to do it at least once daily.
If you're not comfortable using traditional flossing methods, ask your dentist about alternatives
#3) Use a Therapeutic Mouthwash
Rinsing your mouth daily with a therapeutic mouthwash reduces the development of tartar, prevents or reduces gingivitis and removes any lingering food debris.
Look for a seal on the mouthwash that deems it effective and safe to use.
It doesn't matter whether you floss, brush or rinse first – just do each task well, using the proper products.
#3) Visit Your Dentist Regularly
Visiting your dentist at least once yearly is the best way to keep your oral health in check. Getting your teeth professionally cleaned is the only way to remove tartar and also helps target any plaque that you may have missed.
Seeing your dentist regularly also gives them the opportunity to detect any oral health issues before they become more serious.
If you already have gingivitis, a regular dental cleaning combined with effective at home care can help reverse the condition.
#4) Practice Healthy Habits
You know that smoking is bad for your overall health, but did you know its ill effects on your oral hygiene?
Besides causing staining on teeth, smoking or chewing tobacco can damage oral tissue and cause other serious oral health issues.
Although these tips are a great place to start when it comes to practicing effective oral hygiene, your dentist is your best source of information. Contact us today at Creek View Dental, 905-685-0000 to schedule a dental cleaning visit!
"Dr. Jason McNamee and his team have met and exceeded all of this criteria, I am very happy with them. My family and I will continue to support them for many years to come" - Cliff Etkins

Read More
"Absolutely everyone in your office was superb: kind, professional, respectful, supportive, and did everything they could to help me....All of it is a testament to your professionalism, your office culture and business practice, and your sincere kindness. I simply can't thank you enough." - Ellen Foster

Read More