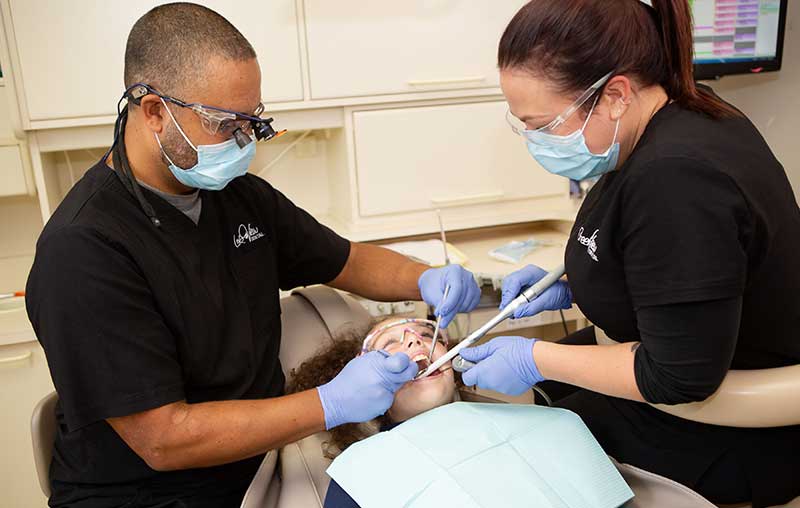 General Dentistry
At our practice, we emphasize prevention. Regular checkups and excellent daily oral hygiene are the best defense against serious problems with your teeth and gums.

Education is a vital part of preventive care. During your regular visits, we will discuss best practices and answer any questions you might have, all with the goal of helping you maintain excellent oral health for life.

While you may not realize it, your regular check-up is important to both your dental and overall health. Many serious diseases are linked to poor dental health, including respiratory illnesses. Early detection and treatment of problems like tooth decay and gum disease enables us to prevent small problems from becoming more severe.

If problems do arise, you can be assured that we will treat them effectively and efficiently. Our family dentistry services include:
To schedule your next appointment, call our office today.
---
Cosmetic Dentistry
Our team is always available to answer any questions or concerns you may have regarding family and cosmetic dentistry. Remember - a great smile starts with a healthy oral hygiene routine and regular dental check-ups.

Some of the most popular cosmetic dental procedures include:
---
Orthodontic Services
At Creekview Dental, we are proud to offer orthodontic services, including Invisalign. Invisalign is a treatment consisting of using invisible (transparent) braces or aligners that can be removed for eating and drinking. This system has become a popular alternative to traditional metal braces because it is discreet and convenient – not to mention effective in correcting crooked or misaligned teeth. Invisalign works by gradually applying pressure to the teeth to move them into the proper position.
Talk to us about enhancing your smile. Contact us today to learn more.
BOOK AN APPOINTMENT ONLINE
"Dr. Jason McNamee and his team have met and exceeded all of this criteria, I am very happy with them. My family and I will continue to support them for many years to come" - Cliff Etkins

Read More
"Absolutely everyone in your office was superb: kind, professional, respectful, supportive, and did everything they could to help me....All of it is a testament to your professionalism, your office culture and business practice, and your sincere kindness. I simply can't thank you enough." - Ellen Foster

Read More