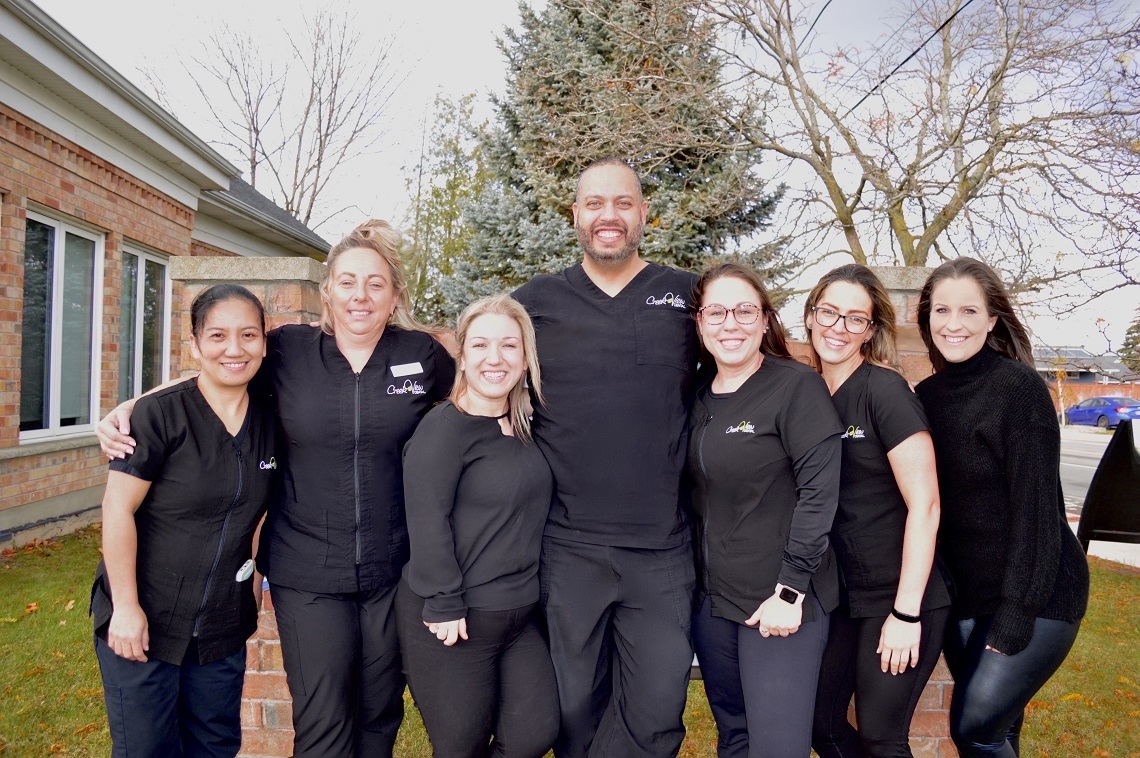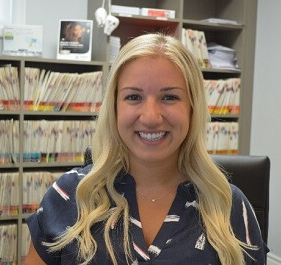 Melynda - Front Desk Administrator
Melynda is one of our front desk administrators, she is often the first welcoming face you will see when you visit. She joined the Creek View Dental team in 2020 and has proven to be a friendly and welcoming personality who takes pride in getting to know each and everyone of our patients. When Melynda is not at work you will likely find her boating or on a pair of water skies. Melynda graduated from Niagara College with a certificate in Dental Office Administration. She is skilled in explaining various dental procedures and specialties using patient friendly dental terminology. She is here to make sure you have a smooth and effortless visit each and every time.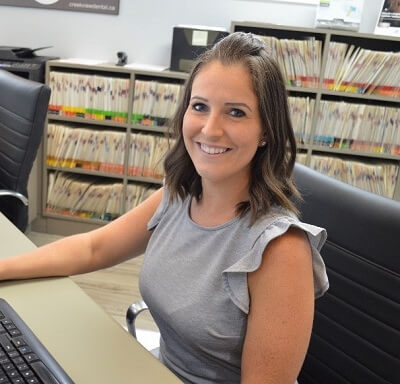 Kylee - Dental Treatment Coordinator
Kylee is our Dental Treatment Coordinator. You may see her at our front desk or you may encounter her in a more private setting where she is trained to help you navigate your dental treatment plan. Kylee became a certified Dental Administrator in 2016. She is skilled in helping you to fully understand what your treatment will entail. She will answer questions about what to expect, how long a treatment will take, and how to comfortably pay for your investment in your oral health. Kylee has a strong passion for helping the patients of Creek View Dental, and keeping the office running smoothly. Kylee works hard to see all patients leave the office with a smile!.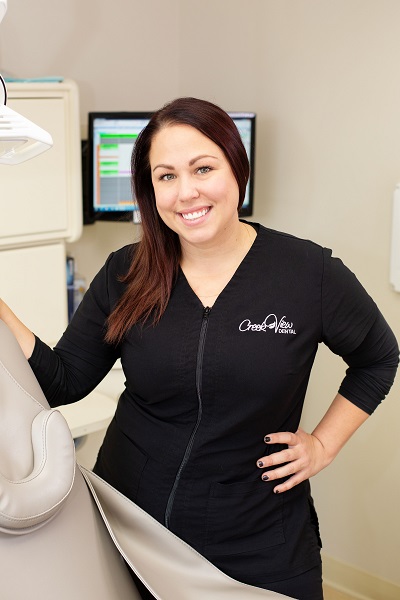 Nicole - Dental Assistant
Nicole is the friendly dental assistant of Dr. McNamee. She graduated in 2006 from Niagara College. Her gentle touch and compassionate chair side manner ensures patients feel more relaxed and comfortable during their visit. Nicole has been with Creek View Dental since 2016 and is well known by our patient family. Aside from exemplary primary patient care, Nicole ensures the clinic runs smoothly and works busily behind the scenes maintaining a sterile and comfortable patient operatory. Luckily her energetic personality is perfectly suited to her role and her upbeat disposition is contagious to all our staff and patients alike. Nicole is also a certified member and co-founder of "Team Awesome".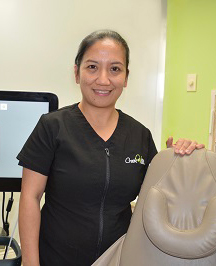 Jasmin - Dental Assistant
Jasmin is our friendly Wednesday evening dental assistant. She graduated from Niagara College and specializes in ensuring your comfort and ease of mind while you are visiting. Her smile is contagious and she is known for her warmth and friendly disposition. Jasmin has many years of experience in dentistry and we are happy to have her as part of our Creek View family.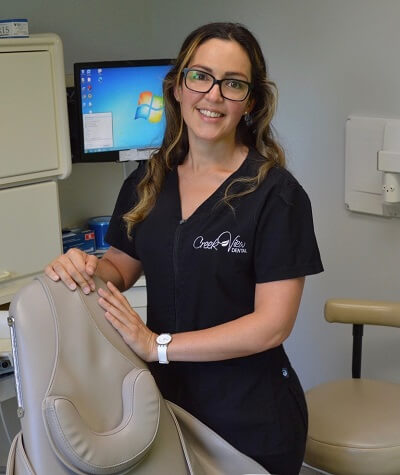 Rachelle - Hygientist
Rachelle is one of Creek View Dental's exemplary dental hygienists. Rachelle's educational background makes her stand out as a highly experienced and skilled hygienist. Rachelle first became a level II dental assistant in Ontario in 2005; She began her journey in general dentistry for one year and then moved on to assisting with Oral Surgery for the next four years. In 2010, she completed her studies at The University of New Haven, and graduated with a Bachelor of Science and Dental Hygiene. Her passion for the well-being of teeth extends beyond the office. At home she could be accused of often trying to sneak-a-peek in her family's mouth. When she is not practicing her art, Rachelle enjoys trying out new recipes and pushing the boundaries of what can be turned into a muffin. She is a valued member of Creek View Dental and one of the warm personalities you may run into at one of your visits.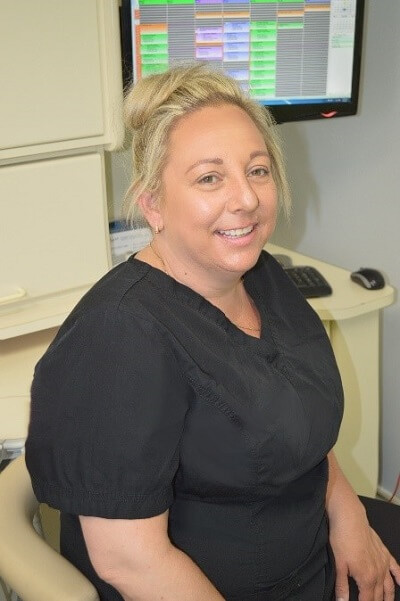 Michelle - Hygienist
Michelle is one of Creek View Dental's highly skilled dental hygienists. Michelle graduated from Niagara College with honours in 2012. She has experience in the management of patient's with anxiety and special needs. Michelle provides our patient's with quality care. She takes pride in patient education and instructing patients on their oral hygiene needs. Patient's continue the practice of good hygiene confidently maintaining their dental care at home. Michelle has volunteered her time providing oral education in many facets of the community. Aside from her passion for dental hygiene, Michelle's second love is travelling and making memories.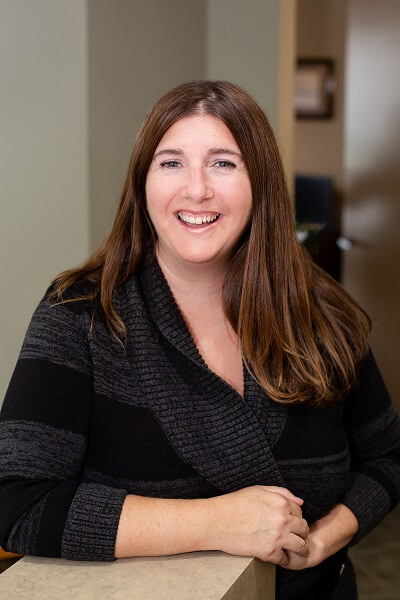 Natasha - Clinic Manager
Natasha completed her degree at the University of Western Ontario and went on to graduate school at the University of British Columbia. She enjoys travelling and reading. When not at the office you are sure to find her driving her kids all over town to sports and dance!
Creek View Dental Office Fun!
"Dr. Jason McNamee and his team have met and exceeded all of this criteria, I am very happy with them. My family and I will continue to support them for many years to come" - Cliff Etkins

Read More
"Absolutely everyone in your office was superb: kind, professional, respectful, supportive, and did everything they could to help me....All of it is a testament to your professionalism, your office culture and business practice, and your sincere kindness. I simply can't thank you enough." - Ellen Foster

Read More