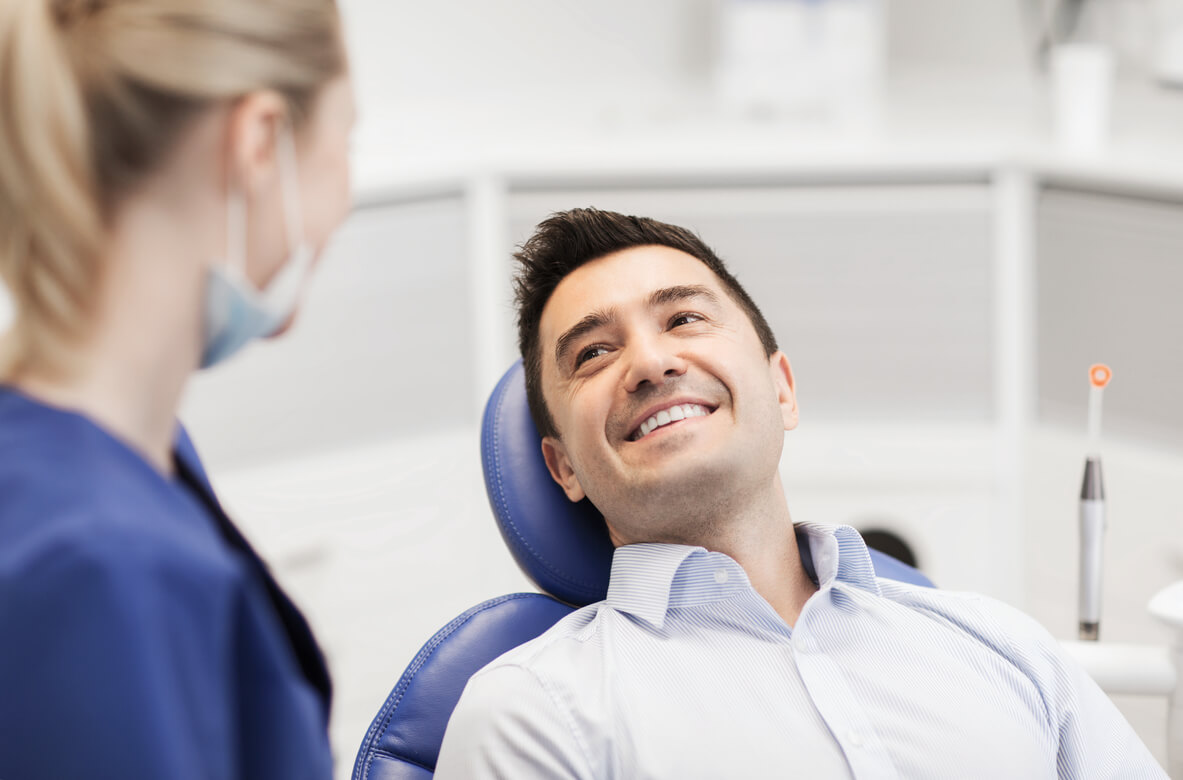 Posted on

March 15, 2023
Going to the dentist isn't everyone's favourite thing. In fact, it probably isn't anyone's favourite thing, but regular checkups and good oral health is crucial for your overall health. For some people, it's a general feeling of nervousness, while for others, it's an overwhelming fear of sitting in the chair for a cleaning and a checkup. If you fear going to the dentist, here are a few ways you may be able to overcome that.
Find the right dentist and dental team.
Finding a dentist that you are comfortable with, and is the right fit for you, is the biggest part of making sure that you keep your regularly scheduled dental appointments. If you express anxiety about coming into the dentist's office but feel as though your dentist isn't taking you seriously or considering what makes you uncomfortable, then it won't make it any easier for you to stick to your appointments.
Bring a friend.
Having a supportive person there, even in the waiting room, can make you feel more relaxed at your appointment. If you can bring a friend or family member to support you during your visit, the distraction may help to decrease anxiety.
Try some relaxation techniques.
Before you go to your appointment, take some time to relax. Many people with anxiety around the dentist get themselves emotionally worked up before even stepping foot inside the office. Take a little time to relax through meditation or deep breathing techniques. Consider creating a calming playlist which you can listen to while at your appointment.
Consider medication.
Some people who have extreme anxiety around the dentist ask their dentist to give them a light sedation just to help them relax during the appointment. However, this option is likely one that you will have to discuss with your dentist in person, so you will need to make an appointment with your dentist before you can explore this option. The dentist will need to review your medical history and determine if it is safe to offer certain sedatives.
Talk to your dentist.
Your dentist can't read your mind, so tell them that you are nervous and have anxiety about coming in for dental appointments. If they know that you are nervous or uncomfortable, they may adjust their approach to your care and appointments to help make you feel more comfortable while you are there.
Ask questions.
It may make you feel more comfortable if you know what is going on and what the dentist is doing. If this works for you, then take the time to ask questions about the appointment and the care being provided to you. Any good dentist is going to be completely fine with you asking questions, and they will take the time to explain the procedures and treatments you're going to go through.
Contact Creekview Dental today.
Don't let dental phobias prevent you from taking care of your dental health. If you have fears about dental appointments, try these techniques and discuss your anxiety with our dental team today so we can help you find what works for you. Everyone at Creek View Dental, from front desk administration to the clinical staff, is trained and more than happy to discuss ways to make your visit more comfortable. Call us today to schedule an appointment.
"Dr. Jason McNamee and his team have met and exceeded all of this criteria, I am very happy with them. My family and I will continue to support them for many years to come" - Cliff Etkins

Read More
"Absolutely everyone in your office was superb: kind, professional, respectful, supportive, and did everything they could to help me....All of it is a testament to your professionalism, your office culture and business practice, and your sincere kindness. I simply can't thank you enough." - Ellen Foster

Read More