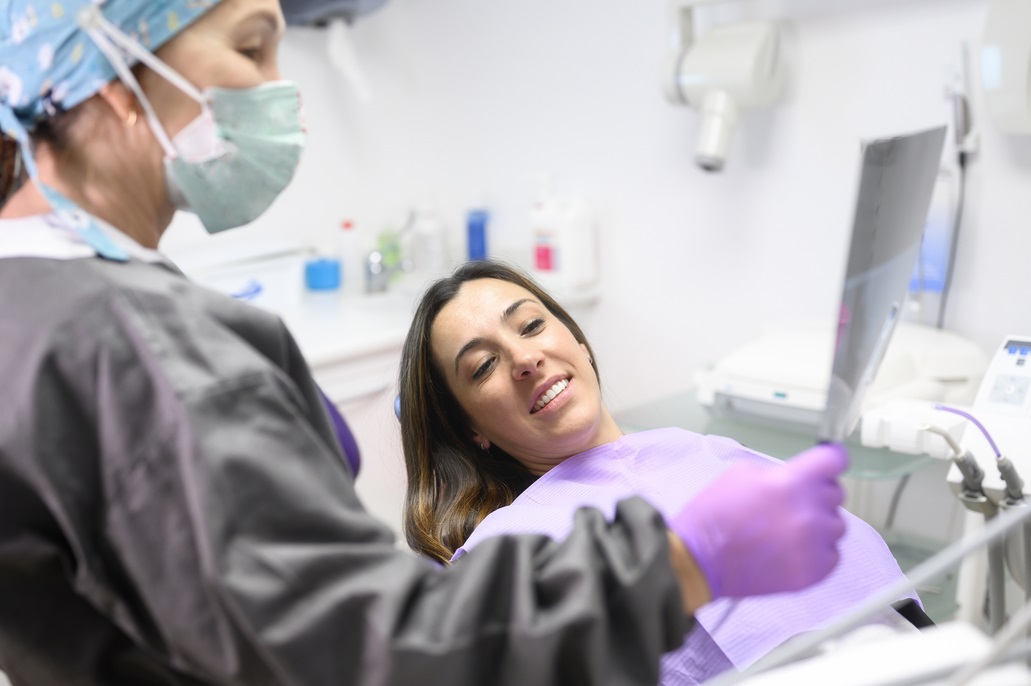 Posted on

June 19, 2023
When you go for your regular dental check-up, your dentist may take a few x-rays of your teeth as part of preventative maintenance. x-rays are a very important part of your dental exam. X-rays are a commonly used, safe, and effective screening tool. X-rays are used in many types of medicine and are able to help the practitioner see into structures that would not normally be able to be viewed with the naked eye.
Dental x-rays give your dentist and dental health team a clear picture of the hard tissues in your mouth – that is, the teeth and the bones – as well as the softer tissues surrounding your teeth and jaw. These x-rays can help them detect – and therefore treat – a number of issues early on before they become larger issues. Here are some of the things your dentist will look for in a dental x-ray:
Early signs of tooth decay
X-rays allow your dentist to see cavities that could be developing between teeth or underneath existing fillings. With just a visual check-up, your dentist may be able to see surface tooth decay, but they won't be able to see decay that is happening between teeth. Identifying decay early allows for preventative dentistry and reduces the risk for more complicated dental procedures in the future.
Bone diseases
Since the x-rays will show the dense tissues – like teeth and bone – in your mouth, your dentist will be able to determine if any of the bone is deteriorating or showing signs of disease.
Early detection and treatment are the best way to prevent further damage to the bone. If there is an issue, your dentist will be able to prepare a treatment plan so that you can maintain your oral health.
Changes over time
Your dentist will probably take x-rays every 9 months to a year, and they will keep your previous x-rays on file so that they can compare them to the new ones.
Comparing x-rays will allow your dentist to see any type of progression of disease or decay in the teeth or jaw.
Wisdom teeth removal
For those who still have their wisdom teeth, your dentist can use x-rays to monitor their movement and determine if they need to be removed or not.
In some cases, wisdom teeth will stay in the same spot for years and not cause any issues. However, in other cases, they can push on the adjacent teeth in your mouth – causing them to move. This can impact the position of other teeth which can change a bite pattern and potentially cause pain.
How often do you need a dental x-ray?
Some patients will have an x-ray done at each check-up, while others might have it done at every other check-up. The frequency is generally determined at the discretion of the dentist based on the individual's oral health.
Your dentist may determine that you need to have x-rays more often if they are monitoring bone disease or decay. Your dentist may be concerned about how fast the condition is progressing, which would require you to have them more often.
If you have questions about having dental x-rays as part of your regular dental health routine, don't hesitate to talk to your dentist and dental health team.
Contact Creekview Dental today
If you are due for your next dental check-up, or have concerns about your oral health, contact us today to make an appointment.
"Dr. Jason McNamee and his team have met and exceeded all of this criteria, I am very happy with them. My family and I will continue to support them for many years to come" - Cliff Etkins

Read More
"Absolutely everyone in your office was superb: kind, professional, respectful, supportive, and did everything they could to help me....All of it is a testament to your professionalism, your office culture and business practice, and your sincere kindness. I simply can't thank you enough." - Ellen Foster

Read More