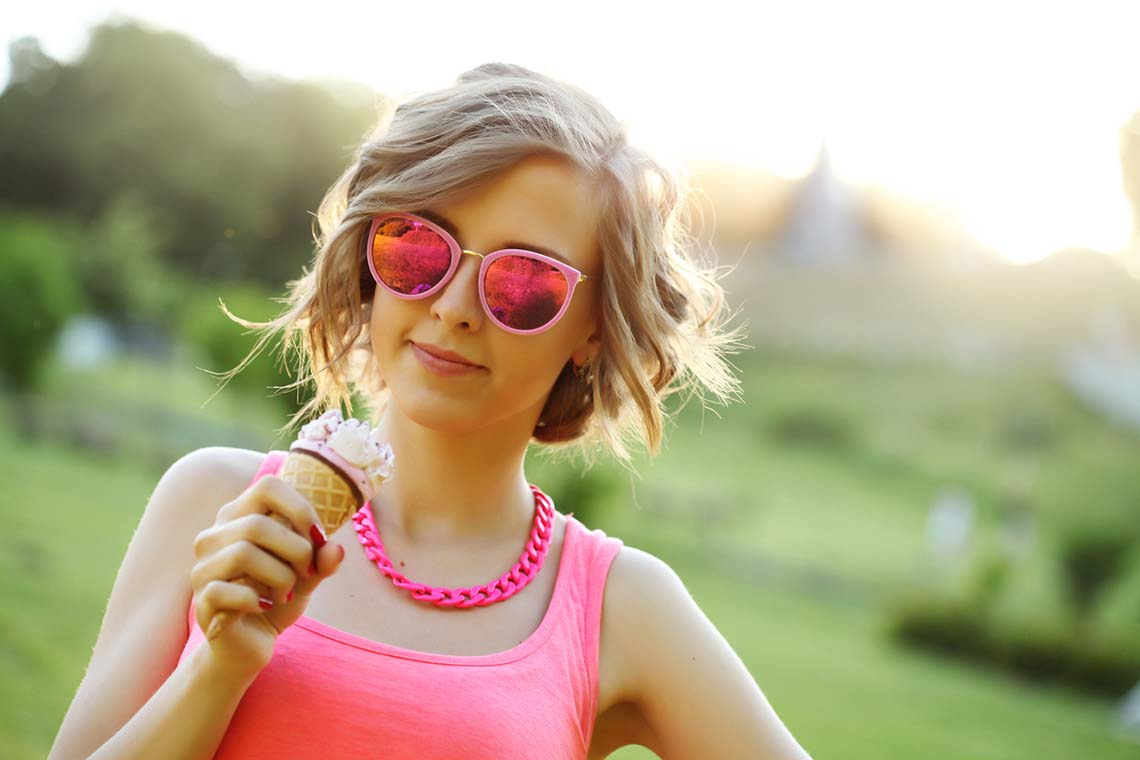 Posted on

July 11, 2022
As the warmer weather approaches, there is a need to enjoy some traditions of the season. Sitting on a patio in the sun while sipping a cold drink or maybe walking down the boardwalk with your favourite ice cream in hand. However, our summer habits might not be the best for our teeth. Here are some tips on protecting your teeth while enjoying the summer.
Don't eat the ice
Chewing on hard objects – like ice – can cause injury to our teeth. Chewing ice can chip or crack our teeth – and that means an emergency trip to the dentist!
Be aware that chewing on ice when you have sensitive teeth can cause some sharp nerve pain which can be very uncomfortable.
Consider wearing a mouthguard
Many summer activities that keep us fit can also be dangerous for our teeth. Summer sports like soccer and baseball can result in traumatic injury to our mouths. A simple sports guard can help prevent painful and costly injuries to our teeth. Even some non-contact activities in the summer can result in unexpected oral trauma. A fall from rollerblading for example is common enough, and preventing injury to our mouths while enjoying this activity can be as simple as sporting a mouth guard.
Limit the sugary drinks
We are all aware of the corrosive nature of acid and sugar found in many soft drinks, but we don't often think of sports beverages as having adverse effects on our mouths. Many people will enjoy sports drinks over the summer. Working up a sweat outdoors in the hot weather naturally has us reaching for some of these tasty drinks. But the sugar content of some of these drinks are as high as what you would find in soda. If you enjoy sports drinks during the summer, check the label and opt for something that is lower in sugar.
Visit the dentist before you leave the country.
Many people plan their vacations for the summer months. Some people plan to leave the country. If you have been putting off going to the dentist, then you may want to go in for that checkup before you go on vacation. Unexpected dental emergencies are a sure way to ruin a much-deserved vacation. Abroad, you may not have access to the same kind of dental care you would at home. Often emergency treatment is costly and inconvenient while out of country.
Take the time to make sure your dental health is maintained before you head out on that vacation.
Stay hydrated
During the summer months, we're outside more often and as a result, sweating more often as well. For this reason, it's important to stay hydrated. Being dehydrated can cause some issues with your dental health, including halitosis, also known as "bad breath". Some bacteria thrive in dry mouth and this results in their rapid growth. Ensuring that you drink enough water this summer will help keep your oral cavity optimally moist and will help to keep the bad breath at bay.
Contact Creekview Dental today
This summer, consider your gorgeous smile for all the pictures you're going to take. If you haven't been to the dentist recently, give us a call and see how we can help you with that smile. You will be surprised at the affordable options available to you for straightening and whitening that smile. Contact Creekview Dental today to schedule an appointment with our team. We can't wait to see you!
"Dr. Jason McNamee and his team have met and exceeded all of this criteria, I am very happy with them. My family and I will continue to support them for many years to come" - Cliff Etkins

Read More
"Absolutely everyone in your office was superb: kind, professional, respectful, supportive, and did everything they could to help me....All of it is a testament to your professionalism, your office culture and business practice, and your sincere kindness. I simply can't thank you enough." - Ellen Foster

Read More