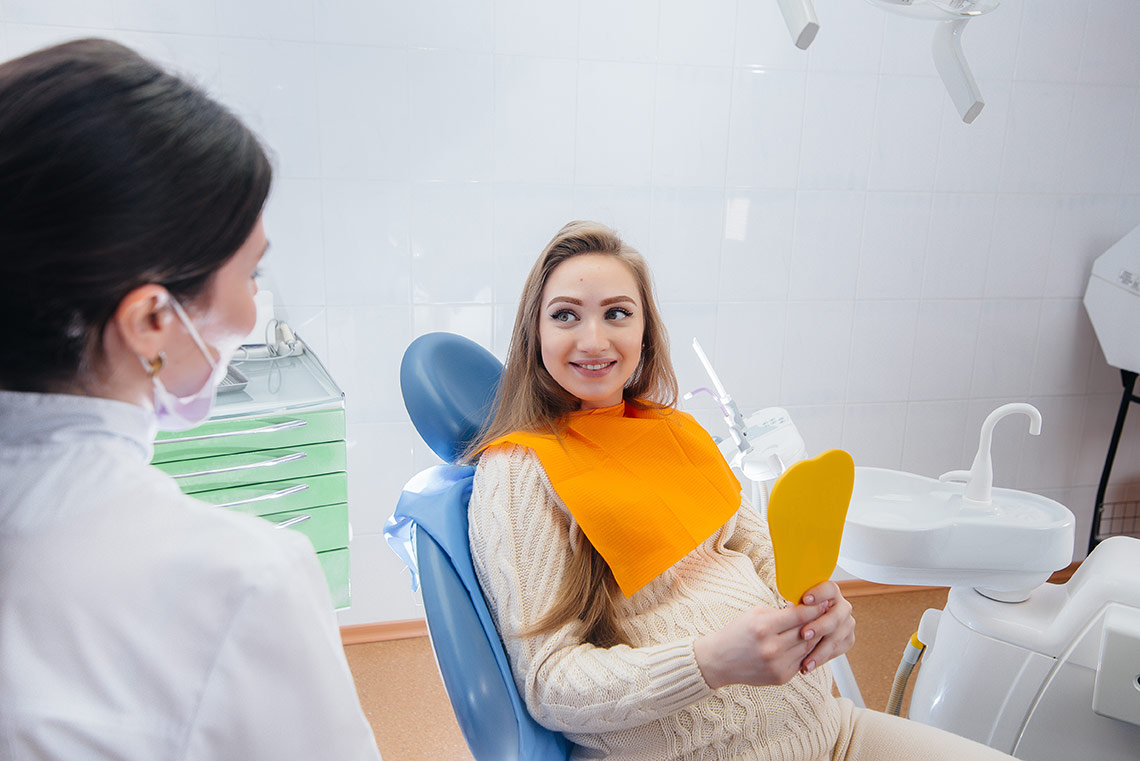 Posted on

April 14, 2021
Caring for your gums and teeth is an essential part of maintaining overall health – and is recommended when you're pregnant, too. Here are some tips to follow when it comes to tooth care during pregnancy.
Follow an Oral Hygiene Routine
Maintaining consistent healthy oral hygiene habits during pregnancy can be difficult when dealing with tender gums, nausea, and a strong gag reflex. However, it is crucial to continue brushing and flossing daily.
Nausea and vomiting can leave stomach acids in your mouth that can erode tooth enamel, but there are ways to offset tooth damage. Although you may want to brush right after vomiting occurs, wait 30 minutes. If you suffer from frequent vomiting, a safe suggestion is to rinse your mouth with a teaspoon of baking soda mixed with water. This can help prevent stomach acids from damaging your teeth. To freshen your mouth and protect your teeth, continue using fluoride.
Maintain a Healthy Diet
Eating healthy and avoiding smoking, drugs, and alcohol is imperative for your dental health – whether or not you're pregnant.
Eating a balanced diet and drinking plenty of water helps with your baby's growth and development. Try to eat fruits and vegetables for half of your diet; choose lean proteins such as lean beef, skinless poultry, and fish; and choose low-fat or fat-free dairy foods.
When it comes to snacking, avoiding (or reducing) the number of sugary snacks and drinks you consume will help prevent tooth decay.
After each meal, try to brush your teeth or rinse with water or fluoride. This removes any bacteria from plaque that produce acids and erodes tooth enamel.
See a Dentist Regularly During Pregnancy
During pregnancy, your body undergoes many hormonal changes that can impact your oral health. These hormones can put you at higher risk of increased gum tenderness, inflammation, and sensitivity, leading to pregnancy gingivitis. Pregnancy gingivitis affects between 60 to 75 percent of pregnant women and is an early stage of periodontal disease (gum disease).
Ensure you are scheduling regular visits with an experienced dental team to ensure your oral health is the best it can be during your pregnancy.
Pregnancy and Dental Visits
At Creek View Dental, we are committed to helping you maintain excellent oral health before, during, and after your pregnancy. When you visit us, be sure to inform us that you are pregnant so that we can follow proper protocols to keep you and your baby safe.
We can safely administer X-rays and local anesthetic during pregnancy. If x-rays are required, we'll ask you to wear a lead apron to protect you and your baby from any potential radiation. Our dental team is committed to your safety and wants you to feel as comfortable as possible during your visit.
If you have questions regarding safety around dental procedures while pregnant, visit our website or call us at (905) 685-0000.
"Dr. Jason McNamee and his team have met and exceeded all of this criteria, I am very happy with them. My family and I will continue to support them for many years to come" - Cliff Etkins

Read More
"Absolutely everyone in your office was superb: kind, professional, respectful, supportive, and did everything they could to help me....All of it is a testament to your professionalism, your office culture and business practice, and your sincere kindness. I simply can't thank you enough." - Ellen Foster

Read More